Nebraska will build its long-awaited $350 million, 1,500-bed prison at a site northeast of Lincoln, Gov. Jim Pillen announced Thursday.
The state paid $17 million for an option for 300-plus acres near 112th and Adams streets, about a mile beyond Lincoln's northeastern edge, Pillen said at a Thursday afternoon news conference at the Capitol.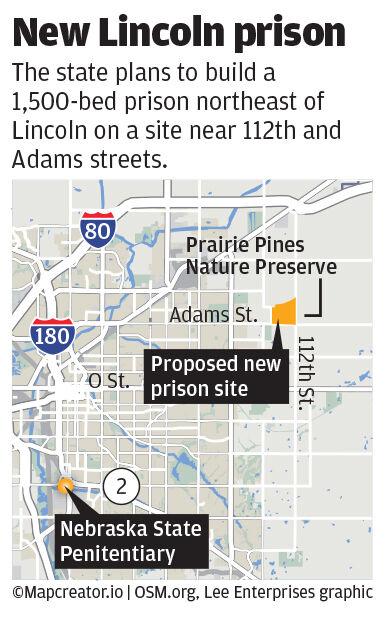 Construction on the multi-custody facility, which will replace the aging Nebraska State Penitentiary in Lincoln, will begin in the fall of 2024, Pillen said. The state has tabbed the architecture firm DLR Group to design the prison between now and then.
"I'm excited that this investment is gonna allow us to create an environment that we can literally lead the nation — literally lead the nation — in taking care of those who have a debt to pay to society," Pillen said at Thursday's news conference, where he appeared alongside newly appointed Nebraska Department of Correctional Services Director Rob Jeffreys.
Jeffreys, who led the Illinois correctional system agency for four years before Pillen tabbed him to lead Nebraska's corrections department earlier this year, said officials looked at more than 70 potential sites before settling on the spot northeast of Lincoln.
Both Pillen and Jeffreys emphasized that plotting the prison just outside of Lincoln's city limits came down, in part, to staffing.
"We were looking at: 'Where is our current workforce at?" Jeffreys said. "'If we create a new facility, are we gonna be concerned about the workforce for a new facility in a new town, when we have a workforce right here that's transferrable to the facility if we build it in the same town.
"So that was a main factor ... that contributed to the city of Lincoln."
Jeffreys said the 1,200-bed state penitentiary will be decommissioned upon the new prison's opening and that the inmates, along with the approximately 500 employees currently working there, will be transferred to the new site. Pillen said the new prison is expected to employ 1,000 people.
The site's proximity to Lincoln — where portions of the state penitentiary have existed since 1869 and where the state opened the reimagined Reception and Treatment Center last year — and to Interstate 80 will help ensure the department can provide programming to inmates while a majority of inmates "maintain contact on a routine basis" with their families, Pillen said.
"(That's) a really, really key part to being reintroduced into society," the governor said, noting that 60% of the state's inmates are released from prison within three years of entering state custody.
Nebraska lawmakers have approved spending $350 million for the construction of the prison — an amount that Jeffreys said he hopes the state can stay under, while expressing some worry over what continued inflation might mean for the project.
Pillen on Thursday said that state officials within the executive branch settled on the site northeast of Lincoln internally and did not consult members of the Legislature, but had engaged with city leaders in Lincoln. He did not detail those discussions.
"The city has opinions for what is best for them and we as a state ... have got positions, and we respect each other's positions," he said.
Leirion Gaylor Baird's chief of staff, T.J. McDowell, said the new prison was a state-led project and the city did not choose the location.
"We understand the project is in the design phase and anticipate future conversations about the needs of their project," McDowell said in a statement.
City Councilman James Michael Bowers, who represents northeast Lincoln, said he received calls from six people with concerns about the prison's location less than two hours after it was announced.
"Folks are concerned and frustrated and feel like this is something that has been sprung on us," he said.
Housing developments have been expanding quickly in that part of the city, Bowers added, and Lincoln Public Schools opened its newest elementary school in the area — Robinson Elementary — just last year.
Bowers said he plans to talk through the city's options with the rest of the council in the coming weeks.
"Northeast Lincoln needs a hospital, not a prison," he said.
Sen. Rob Clements of Elmwood said he learned the prison would be located in District 2, which he has represented in the Legislature since 2017, when it was announced on Thursday.
Clements said he believes the time is right for a new prison: "The old prison is out of date, we have the money already allocated in the budget. It needed to be near Lincoln or Omaha."
The Appropriations Committee chairman said he anticipates Lincoln and Lancaster County residents will have "some concerns," but said he's confident the facility will be built with public safety in mind.
"Nobody is going to come forward and say they want it in their backyard," he said. "I'm confident the corrections director will be able to put public safety first."
Omaha Sen. Justin Wayne said he also learned of the proposed location on Thursday. As the chair of the Judiciary Committee, Wayne said being kept in the dark ahead of the announcement "shows the governor's office isn't interested in decreasing the prison population."
A proponent of sentencing reform, Wayne said he preferred finding ways to reduce the number of people incarcerated in Nebraska rather than build a new prison.
"It shows a belief that we can build ourselves out of this problem, when every expert has said that we need true criminal justice reform," Wayne said. "When this prison opens, it will already be over-crowded, costing taxpayers even more money."
Nebraska's prison system is among the most overcrowded in the nation, regularly holding about 1,900 more inmates than its prisons were designed to house — an issue that Jeffreys said the new prison will help ease, but won't erase.
Reached by phone Thursday, Lincoln Sen. George Dungan said he remains disappointed the state is "investing this much money into the building of a new prison" when it has not made any progress on reforms aimed at reducing the number of people who are incarcerated.
"We have unprecedented incarceration in Nebraska and rather than reduce that number substantially, this prison will be a Band-Aid on the situation," said Dungan, who represents northeast Lincoln's District 26.
Pillen said Thursday he would not consider implementing sentencing reforms in addition to the construction of the state's next prison in an effort to reduce overcrowding.
"The judicial system has the highest calling in government: to keep us safe," Pillen said. "People need to be held accountable, pay their dues."
Asked Thursday if he thought there were too many incarcerated individuals in Nebraska, Jeffreys did not directly answer.
"I don't sentence people to incarceration," he said. "My job is to manage the incarcerated population once they come to me. So we'll do everything we can to prepare them to be ready to re-enter back into society, but I can't speak to why we have as many people incarcerated."
Dungan said the state should instead be investing in more rehabilitation services and programs that prevent people from being incarcerated in the first place, he added, or ensuring the Department of Correctional Services has an adequate number of mental and behavioral health staff to serve that population.
Jeffreys and Pillen emphasized Thursday that the state-of-the-art prison that officials hope to build will be better equipped to provide rehabilitation programming to inmates — and the facility's proximity to Lincoln will put officials in the best position possible to staff those programs.
"The bottom line point we're trying to make just simply is that this investment is really important so we can improve programming," Pillen said.
The cost of the project has grown by more than $100 million in the years since while overcrowding within the corrections department has worsened.