If an award existed for Most Valuable Intern, Anthony Grant might have collected the most votes this summer.
Nebraska's starting running back last year spent much of his offseason in north Lincoln with a nonprofit organization that offers help and education for local low-income individuals. He cleaned up the office and interacted with visitors. Half of the building was empty until the 5-foot-11, 207-pounder helped lug in some furnishings.
"Great people," Grant said Tuesday. "They really help a lot of people around Lincoln and the area."
The 24-year-old knows the final move of his career is coming next. He'll graduate in December with a degree in child, youth and family studies. Between now and then is his sixth and last college fall representing one more chance to do what he's done since childhood.
Run. Grant did it last year — his 963 rushing yards led the team and ranked fifth most among all Big Ten returners. He reached the century mark in four of his first five Nebraska games, including popping off 189 yards on 23 totes against North Dakota. He would have finished as the first Husker 1,000-yard back since Devine Ozigbo if not for a late fade that saw him eclipse 61 yards just once across the final seven contests of his Big Ten debut.
"Sometimes I was stuck in this situation where I probably could have did something better on this play or this drive," Grant said. "It wasn't like I didn't know what I was doing, but really just taking that next step to being a really elite guy."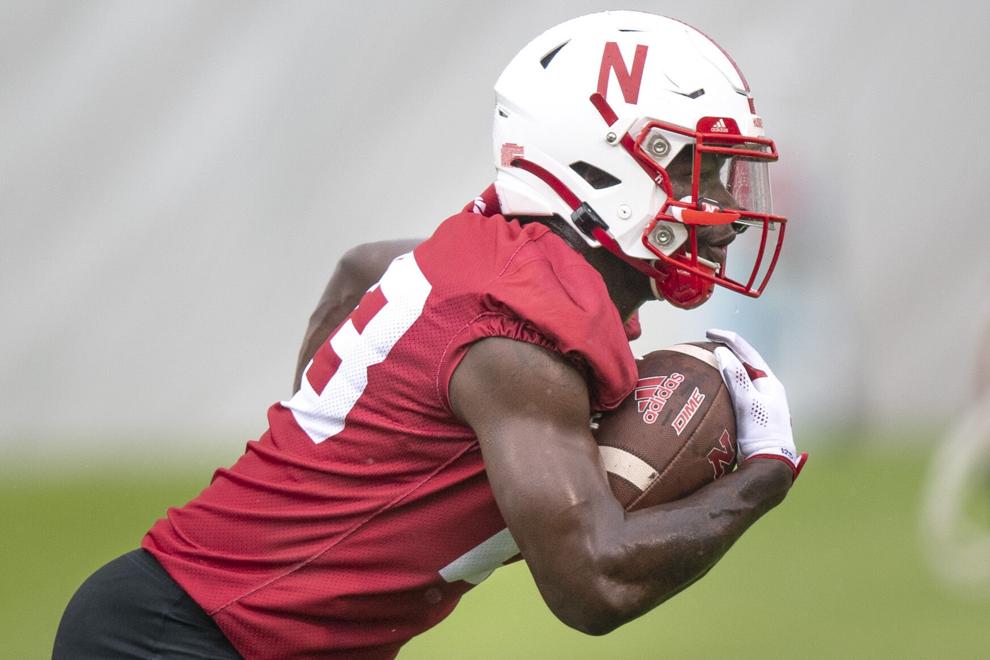 Grant was a workhorse a year ago — he took 218 of Nebraska's 310 running back carries (70.3%) — but figures to share the load this time as a new coaching staff employs a committee approach. His old teammate at Buford High School in Georgia, Gabe Ervin, is another leading candidate. Rahmir Johnson and freshman Emmett Johnson have also impressed, prompting coach Matt Rhule to repeat that he "couldn't be happier" with the position group — NU could play winning football with the fifth string, he said.
If anything, the elder statesman of the backs might be getting overlooked. A crowd of reporters after practice Tuesday surrounded tight end Thomas Fidone — who has appeared in one career game amid injuries — while Grant drew a small gathering a few yards away.
"I can really do something big this year," Grant said. "I can really do something special this year."
The back is in position, Rhule said, getting plenty of work with the No. 1 offense during camp after consistently making plays with the 2s.
"I'm proud of Anthony," Rhule said. "We all know he can run the football at a high level. There's also a lot more to playing running back than that and I see him developing in those areas. He's been very dependable in terms of being where he is supposed to be, taking care of his body, handling all of his business."
Grant grinds in a stable environment, long removed from being the high three-star 2018 prospect with 40-plus offers who flipped from Tennessee to Florida State on signing day. He sat out the 2019 season adjusting to the death of his mother and played a combined 20 games — averaging nearly 19 touches — during the 2021 calendar year at New Mexico Military Institute.
Grant broke out for 101 rushing yards and two scores against Northwestern in Ireland and the next week became the first Husker to log consecutive 100-plus-yard rushing games to begin a career since Taylor Martinez in 2010. A coaching change, general fatigue and stout Big Ten defenses took their tolls by late November as he picked up a combined 38 ground yards on 30 carries against Wisconsin and Iowa.
The lone big Grant game in the season's second half? Minnesota, which saw him go for 115 on 21 tries. The Gophers are up first in two weeks.
"He's our guy," NU offensive lineman Nouri Nouili said. "Him, Emmett, Gabe, Rahmir. They're all our guys. We're going to try and make sure they're as clean as possible and they can run the heck out of that ball."
That includes Grant, who still carries the "PACMAN" nickname from junior college — he was the 2021 NJCAA Division I Offensive Player of the Year — for how he "eats" when he plays. He calls Rhule's emphasis on physical recovery "a lot more detailed" than what Nebraska had last year and another reason to believe his goal of being a more consistent performer is realistic.
Though a few pounds of muscle heavier and a bit wiser, he still runs with urgency. Now as someone who knows his college window — like a gap between a guard and tackle — won't stay open much longer.
"I'm really looking forward to this season," Grant said. "I really feel like I can flip it around for us this year."