Is it a cliché to put some of Nebraska's top football players in a cornfield for a photo shoot? 
Sure it is. But it also makes plenty of sense. The crop of 2024 seniors getting ready to begin their final seasons of high school football is one of the best the state of Nebraska has ever seen — a bumper crop of talent from position to position, from big city to small town. 
Of the top 20 players in the state according to 247Sports, 13 are signed with FBS programs. Of those 13, 11 are committed to Power Five schools, with more almost certainly to come. Ten of the top 11 ranked players in the state are Power 5 commits. The lone player who isn't is Omaha Westside's Caleb Benning, who will pick his Power 5 destination in the coming months.
In the 2025 class, two more players are committed to Nebraska.
It's a trend that started with the 2023 class, which saw 13 players commit to Power Five programs. It's continued in with the 2024 class.
"I feel like this group of guys — there's just more guys starting to get offers and going to play at the next level. So I think the last few years the talent's just beginning to increase," said Bellevue West quarterback Daniel Kaelin, the No. 2-ranked player in the state.
"Part of that too is just more coverage, and some guys that might fall under the radar normally are getting more coverage. But yeah, this '24 class, in the state is really special. There's a lot of talented guys, and I think that's only going to make this season that much more interesting."
Kaelin will throw to two more future Huskers in teammates Dae'Vonn Hall (No. 3 in Nebraska) and Isaiah McMorris (No. 4). Another pass catcher joining Kaelin in Lincoln is the state's top-ranked recruit: Ainsworth tight end Carter Nelson.
That's perhaps best of all for fans of the team in Lincoln: more and more of those players are choosing scholarship offers from the Huskers. Eight last year. Six more this year, with more possibly to come. 
And more teams are getting in on the action. Iowa. Notre Dame. Pitt. Illinois. There's a run on talent in the state from programs around the country that rarely has been seen in these parts. 
"Our recruiting class this year for Nebraska... crazy," Hall said. "The in-state recruiting has been amazing by these guys."
It's not all from the 11-man powers in the state, either. Ainsworth's Nelson and Cross County's Tanner Hollinger rank among Nebraska's top tight ends, with the measurables to match, and will do their damage on the 80-by-40 yard fields of eight-man ball this fall.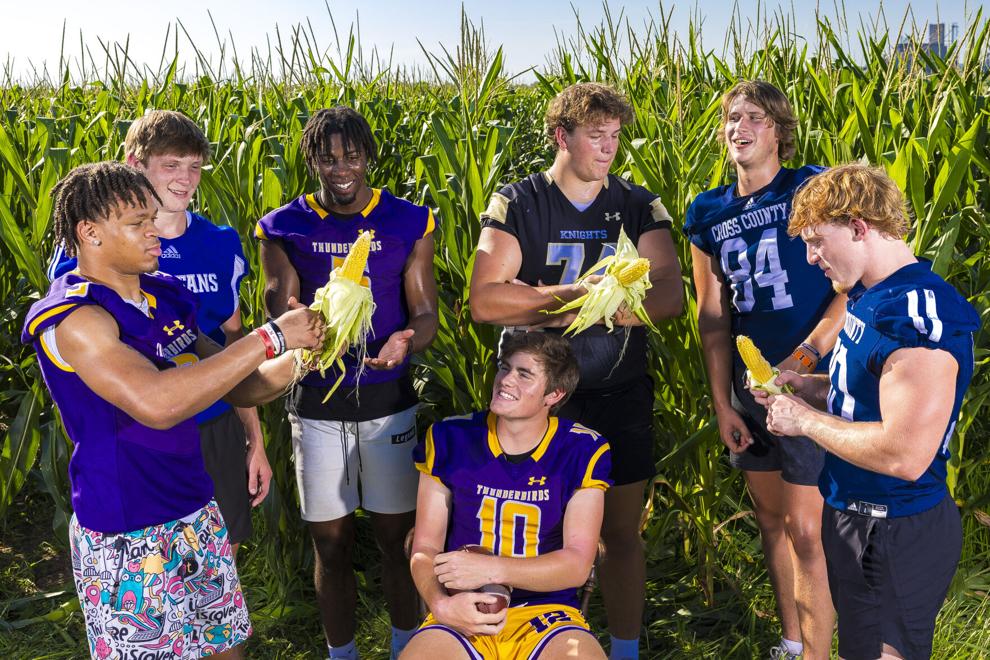 Hollinger's teammate, a 5-foot-10, 215 bowling ball of a fullback named Izaac Dickey, will walk on at Nebraska and get the same kind of treatment from Husker fans as any high-profile scholarship recruit thanks to his throwback style that harkens to the Huskers' glory days.
Even in six-man there's been recruiting traction. Red Cloud tight end Caden Frey recently picked up an offer from South Dakota.
"Coming from a small town, personally I think a lot of players get overlooked," Dickey said. "There's a lot of diamonds in the rough, to say the least.
"Like the saying is, if you're a baller, they'll find you. I think that's definitely coming to fruition right now. A lot of those good players that were getting overlooked are finally getting the attention that they needed."
That's all well and good for the college programs those players will head to next year. But what about the 2023 high school season in Nebraska?
Well, for one, the level of play from Class A to six-man, from the Wyoming border to the Missouri River, might be as good top-to-bottom as it's ever been.
"I really think the Nebraska talent level is growing, and I think one of the coolest things that I see is, not only talent coming out of Lincoln and Omaha, but also everywhere else," said Lincoln East linebacker/running back Dash Bauman, who owns offers from Air Force, Wyoming Northern Iowa, and defending FCS national champion South Dakota State.
"I think Nebraska is just growing with talent. It's a place that probably doesn't get the attention that it should, but I think there's talent everywhere. And there's a lot of kids with the ability and the skills to make it far."
Players clearly see that talent. They aren't blind, and they're highly competitive. It's cool to see Nebraska shine on the national stage, they say. It's also easy to find motivation to improve knowing the guy down the road has the kind of high-level talent to earn that national attention. 
"It's crazy. I think it's the highest it's ever been," said Lincoln Southeast lineman Cooper Johnson, who owns an offer from FCS power Northern Iowa and interest from plenty more Division I programs. "It's just like a constant competition and constant battle, even when you're not playing those schools."
The lights are shining as bright as ever on the state's football talent, like the high beams on the combines that will bring in the crops as the football season hits high gear in a couple of months. 
Is there pressure in that? Maybe. But the pride that comes in representing hometowns and walking the halls of the school outweighs that.
"We're playing eight-man but still getting it done," Hollinger said. "It just shows that (colleges) will find you wherever you're at. So a lot of pride. ... You've just got to play your game."
Hollinger, like the rest of the best talents, relishes that attention.
"I don't think there's any pressure," McMorris said "Because (guys like) me, Danny, Dae'Vonn, we like pressure and we like being on the big stages. I think it's going to be really fun."
Wins in the fall and championships when the weather turns cold are the goal for now. But the future is bright for this group, who can all bond over their shared success in finding elite places to play their college ball.
"In the end, we're all on a team," Dickey said. "Going on to play with these guys, it's going to be a hell of a ride."
High school football preview: Here's what you should know about all seven classes in 2023
From Class A to six-man, here is your guide to preview each class ahead of the 2023 season. To view an online edition of the Journal Star's preview, click here.