Before practice began for the season, coach John Cook felt like the Nebraska volleyball team had many players who could play and help the Huskers be a better team this season.
That has not changed about one week into practice. The Huskers are inching toward the Red-White Scrimmage at 6 p.m. Saturday, where a player may solidify a spot in the starting lineup or make a move.
The Huskers' most significant competitions for the first crack at major playing time come at outside hitter (Lindsay Krause, Ally Batenhorst and Harper Murray), middle blocker (Bekka Allick, Andi Jackson and Maggie Mendelson) and setter (Bergen Reilly and Kennedi Orr).
Orr, who has dealt with injuries previously in her college career, wasn't a full participant on the first day of practice last week. She worked with the athletic trainer and did some running drills on a side court. But Cook said Wednesday it was just a minor setback for Orr and she's "full go."
Cook hopes the players will make choosing the starting lineup difficult for him when the first match is played in nine days.
"There is a lot of really close battles right now for who will start, I think," Cook said. "I really couldn't tell you right now. I think Red-White is going to show us a lot. That's going to be the first really big test for these guys."
Cook did say Reilly has been Nebraska's best server, and that's also been a strength for some of Nebraska's past setters.
And while transfer Merritt Beason has the edge at right-side hitter over freshman Caroline Jurevicius, Cook said Jurevicius has also played well and gets a lot of kills just because of how hard she hits the ball.
Nebraska has enough depth on the 14-player roster that it should be able to have a good scrimmage on Saturday.
"I want to see high-level volleyball, and see us compete," Cook said. "We're going to try and make two even teams and let them go at it. These guys love to compete, so I want to see them do it in front of 8,000 people."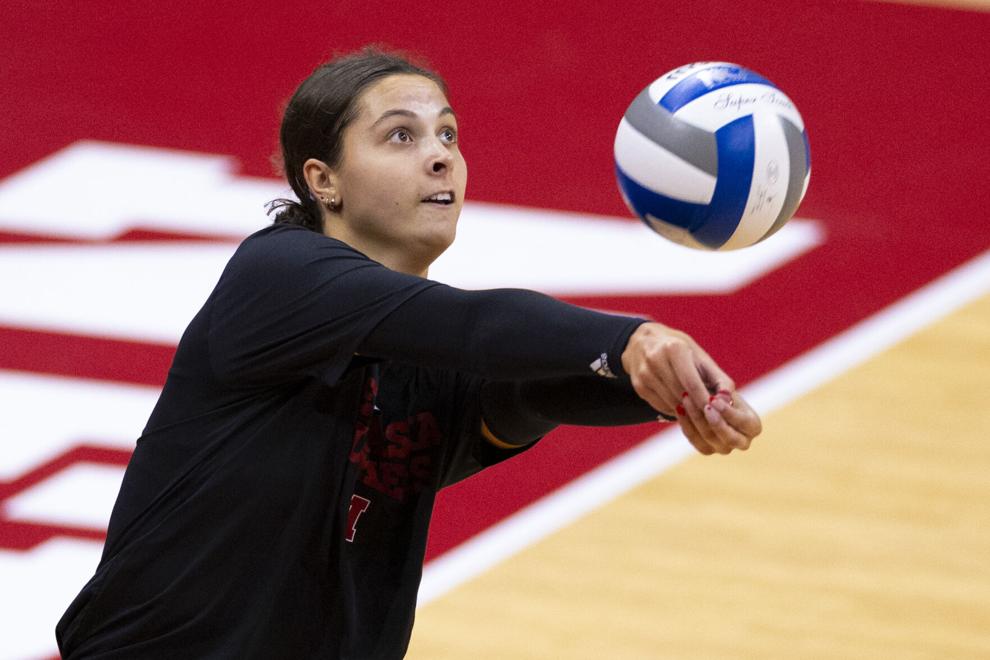 Two more for the Big Ten: Last summer when it was announced that UCLA and USC would be joining the Big Ten Conference, Cook was on board and said it would be "epic."
Now here we go again with Oregon and Washington recently announcing they will also be moving to the Big Ten.
It's easy to remember that those are programs that have the potential to be successful in volleyball because Oregon ended Nebraska's season last year in the NCAA Sweet 16 and Washington beat the Huskers in the 2005 national championship match.
"It's going to be a heck of a volleyball conference," Cook said. "Those are four really solid teams entering the Big Ten."
To be determined will be what it all means for Nebraska's schedule when the Big Ten becomes an 18-team league.
"We had a meeting yesterday with the (Nebraska head coaches)," Cook said. "Nobody knows what the schedule is going to be. I think it's exciting, and it's great for exposure and media and (being) coast-to-coast. It's going to help out the scheduling a little bit just with those West Coast teams having some teams to play out there."
A whole new world: Jackson, the 6-foot-3 middle blocker from Brighton, Colorado, is getting an up-close look already at the big jump from high school to a major college program.
"Coming from a small town, there's not a huge block," Jackson said. "You're playing against girls who don't really play club. So it's definitely a lot different because now you're up and you have four, if not six, hands in your face. So learning to how to hit off the top (of hands) and, like Coach says, 'Break their fingers.' That's definitely been different for me, because I'm used to just bouncing it."
Fan Day: The Huskers will also have their second annual Fan Day on Saturday from 10 a.m. until noon at the Devaney Sports Center. Posters for the season will be available at the autograph table. Fans will use only the North doors to enter the building with parking available in Lots 58 and 60.